It was just this past week, a number of years ago, that I climbed the Burj Khalifa Tower in Dubai. Some folks on Facebook mentioned it as a reminder. Many thanks to them! It's the tallest building in the world, soaring over a half mile into the superheated skies of the desert. It has the most floors of any structure–163. It has the highest night club, the highest restaurant, and the highest fireworks display on the planet. It has over 24,000 windows.
The very first time I went to the amazing, implausible city of Dubai, I shot helicopter views of the Burj Khalifa being built. Little did I know at the time, I would eventually have some history with this astounding structure.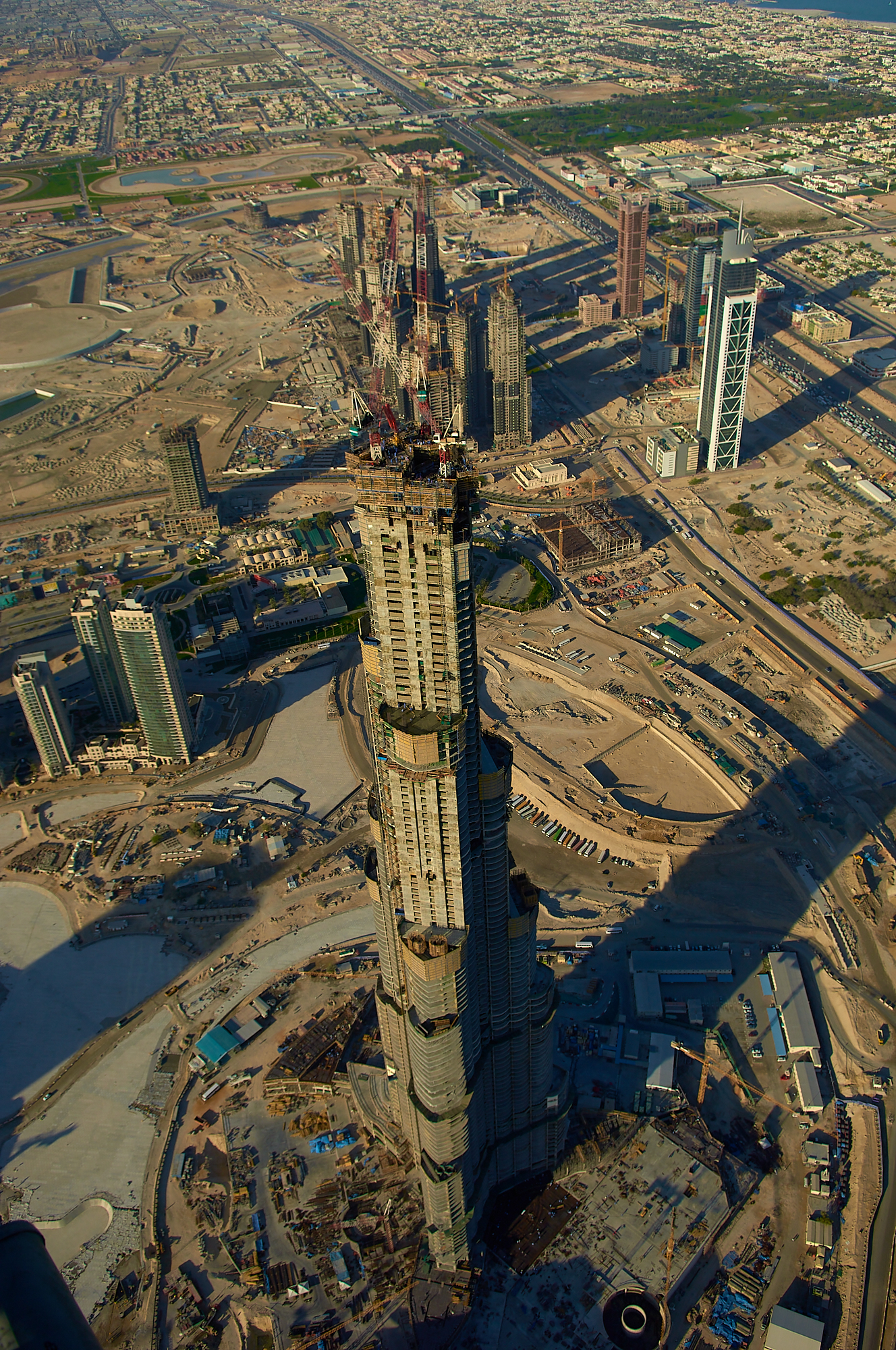 I had climbed the antenna on the North Tower of the original Trade Center buildings in NY. I also had numerous adventures up on the mast of the Empire State, and the lovely turrets atop the Queensboro Bridge, not to mention walking the cables of the Verrazano. Thanks to an introduction by Mohamed Somji of GPP in Dubai, I began talks with the Burj. It took a while, but they eventually okayed the climb, during which I was accompanied by their regular climbers, the talented duo of Mick Flamson and Johnny Salvador.
It's an engineering marvel, the winner of countless awards, accolades and superlatives, but, when it comes to climbing to the top, it's old school. Rung after rung, inside a closed tube, heated by the Middle Eastern sun, for (guessing here) 100 plus meters or so. Along the rungs, there is graffiti. One stands out in my memory. "My body gave up here."
Once atop, the main thing to so is get outside "the bucket" either by standing on the railings, or hopping over the side and letting yourself be "slacked out" as I would call back to Mick, operating the ropes, slowly letting me leverage myself backwards in space, pushing against the side of the structure. You can't photograph that which you are standing on particularly well, so any working distance you can manage to create is a good strategy.
Nice views, to be sure, but it was the picture of my feet, clad in worn out Ecco boots that got lots of attention. It ran everywhere, and got picked up, legitimately and illegitimally, all over the place. Even made the "Comedy" pages on the Huff Post.
Many thanks again to Mick and Johnny, and Mo and Hala from GPP. At the end of the day, it was really about getting my camera in a different place, which is something I heard once…..
Views from the climb over on our YouTube channel!
More tk….