Acclaimed actress Michelle Yeoh is getting much deserved Oscar buzz. Her new movie, Everything Everywhere All at Once is getting raves, which is wonderful to see. She has always been a marvel in front of the camera–smart, steely, physically gifted, extraordinarily beautiful. She has a history of being fearless, doing many of her own stunts, and almost all her own fighting sequences. She is tough as nails. I know this, as she kicked me in the chest once, knocking my body backwards about three feet and my lungs into the next county. I'll explain later.
As was noted on a recent Jimmy Kimmel interview session, Michelle and I went flying together, as a stunt, over the Hollywood sign, for a story in the National Geographic.
I proposed this idea to her, and as she noted to Kimmel, "Who was crazy enough to do this? Michelle Yeoh!" Jimmy Kimmel dryly observed that I should have been arrested for doing this to her. She recalls being very cold. I recall her being absolutely magnificent, hanging off those wires, just across from me, as I hung from the other skid.
The idea sprang up as I was shooting a story for the National Geographic, conceived, edited and supervised (I use that term loosely) by my dear friend Bill Douthitt. We worked on eleven stories for the yellow border gang, and we're still close to this day, which is somewhat remarkable, given the bruising, competitive, Beyond Thunderdome aspects of the Nat Geo story process.
The story was termed "The Globalization of Culture," and it examined the rapid rate of the exchange of cultural items and icons, worldwide, via the hyper fast engines of TV, movies, fashion, cuisine and (at that point) the coming ubiquity of the internet. I needed an Asian star, capable of daring stunts, to do something with me to emphasize the growing global influence of movie personalities from Asia in big budget, mainstream Hollywood films.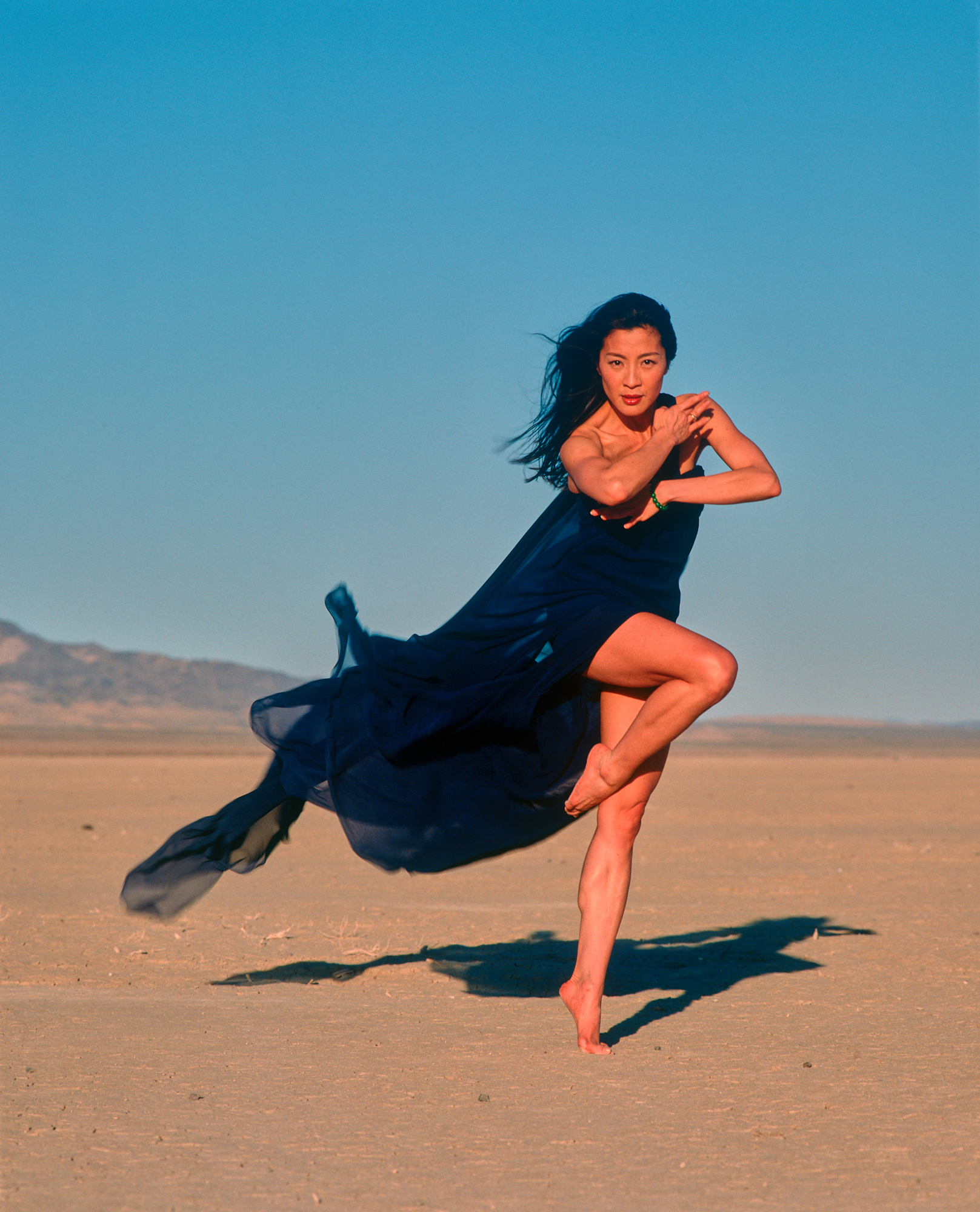 Michelle agreed, and I gave her the Hollywood treatment, flying her via helicopter to a dry lake bed considerably outside LA. I made lovely, fashion-driven photos. She's magnetically beautiful in front of the lens, and I shot pictures like crazy, growing all the more pleased with myself during the course of the day.
Enamored by my own excellence, I sent the film into 17th and M Streets. And got a call from Bill. He was praiseworthy at first, but then it went sideways. Like seeing silent smoke eddying under your door, signaling a fire in the hallway, a sense of dread tiptoed up my spine. The clipped cordiality of our opening banter presaged a walk to the gallows. Bill launched. I recall something along the lines of, "Do you realize you just spent a bunch of dough producing pictures that have absolutely nothing to do with the story?" He went on to offer me an analysis of my ancestry, his rather dismal hopes for future collaborations, and if I had read the "help wanted" sections of the newspaper that day. I'm making light here, but it was a serious photo gaffe on my part.
But in sand of the desert, and the ashes of my failure, an idea had been born. The helicopter was sitting there on the dry lake bed, pilots biding their time. I asked if Michelle and I could take a ride, door off. Sure! (Who's gonna say no to Michelle?) We stood on the skids and lifted off, couple hundred feet in the air. No safety belts or harnesses. I'm one-handing the camera, rotating the manual focus barrel of the lens with my forefinger, hanging onto the "oh shit" handle by the door of the chopper. Michelle, fearless as ever, is gripping the other handle, occasionally standing on the skid with one foot. Couple hundred feet below us, the unforgiving desert floor.
Bad pictures resulted. A spontaneous, thrilling, bad idea. I was too close to her, lens was too wide. But as I looked these pictures over, I went, in my head….hmmmmmm. What if?
Soon, we flew again, together. This time planned, tested, rehearsed and rigged.
I called Bill, seeking his approval for the dough for this shot, which was considerable, and, more evidence of his excellence as an editor, he let me run with it. He was chuckling as I sought permission. "I'm surprised you're not calling me from the chopper, like, oh by the way…."
And I have fond memories of being kicked. I asked her to do it. I always wanted to know if the fight scenes in the movies are tough, or if the punches are pulled. She looked at me, and said, "Joe, you don't want me to kick you." I was insistent. And, I found out why she told me I didn't want her to do that.
Ideas in the air! I wish Michelle all the luck with this new movie. She's is nothing short of amazing, and her talents are a gift to all…..
More tk.